Confession: there's nothing more beautiful to me than a mid-century modern sofa with a tall, mature fiddle leaf fig (in a basket, please) nearby. In fact, if I'm not careful, I'll put a beautiful ficus lyrata at the arm of every settee in the house.
The tendency got me thinking – aren't there other, more creative spaces at home I could liven up with the help of a tall fiddle leaf fig?
That was a year ago. Today, I have successfully started, nurtured, and grown six fiddle leaf fig plants, and carefully acclimated them to different parts of the home. Thinking beyond the predictable formal living room has allowed me to branch out (get it?) and stretch my interior decorating muscles.
Here are five creative places around the home that I've found benefit from the addition of a fiddle leaf fig tree.
The Baby's Room
A nursery is the perfect place for a lush ficus lyrata. When the family's new addition is still too young to reach for the potting soil (or leaves!), a fiddle leaf fig tree is a beautiful addition. Newborns love to look at the bright contrast of the large leaves against the light background of a ceiling or wall.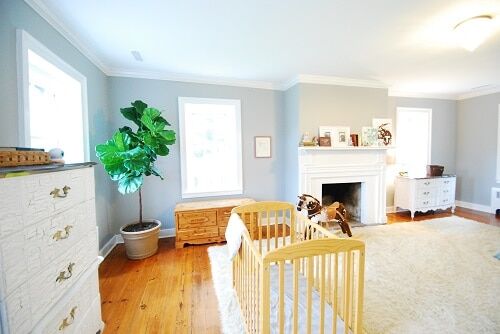 A Study or School Room
Our old farmhouse has a small library. Not long after moving in, we bought two small desks for our children to work on their writing lessons regularly. The setting is perfect for a fiddle leaf tree which cleans and oxygenates the air to help their young minds focus.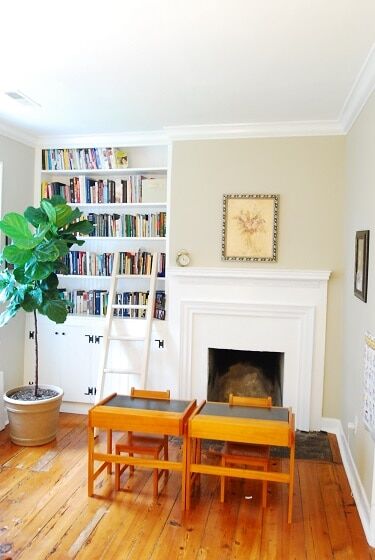 A Patio or Veranda
Want a location for your fiddle leaf fig tree that benefits both you and the specimen? An outdoor deck, patio, or veranda is the perfect setting for both tree and owner.
Recently, a member of the supportive online Fiddle Leaf Fig Plant Resource Group asked whether it would be a good idea to bring her own ficus lyrata outside. A chorus of fellow fiddle leaf fig plant owners chimed in to encourage it. All of them had their own struggling fiddle leaf fig that either came to life or otherwise grew faster outdoors than it had inside.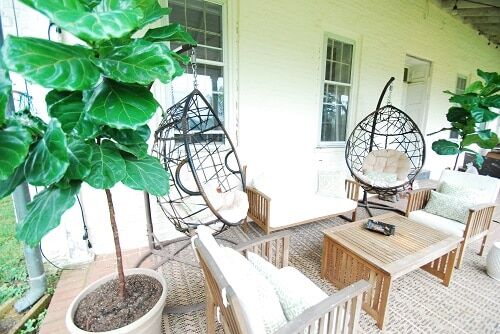 In other words, the move benefits both your aesthetic and your tree.
The Dining Room
Another wonderful place to situate a fiddle leaf fig tree is the dining room. In my case, the ficus lyrata adds dimension and weight to an otherwise airy, light space. It also balances elegance with an element of authenticity. Without it, my dining room would be elegant, sure, but it'd also be overly statuesque, priggish and even lifeless.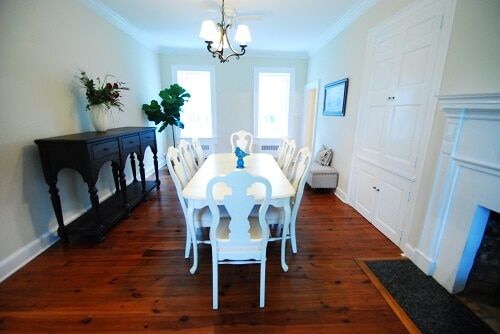 The mature plant's height does for the space what most hutches and art pieces do, creating negative space or "white space" for visual interest. I love the look so much that I added another one to my dining room just this week.
Your Home Office
Ah, my happy place: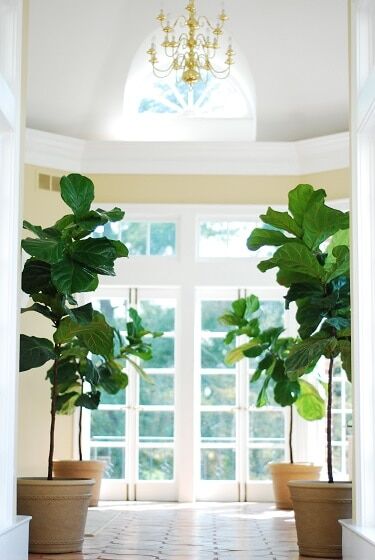 Somewhat by accident, my home office also became a fiddle leaf fig plant greenhouse. Trees in training strengthen their trunks here and learn what to expect from me, their caregiver. In exchange, these air purifiers provide me the oxygen I need to pen one best-seller after the other.
Help me reverse the tired trend on Pinterest – Pin these pictures now to show fellow fiddle leaf fig enthusiast there's more to life for fiddle leaf fig trees than the predictable sofa-side-in-a-basket look. Oh, and post a picture of your own creative ficus lyrata placement in the comments below or on our Facebook page!
Meg S. Miller is an influential speaker and multiple award-winning author with nearly a decade of writing experience. In her latest book, Benefit of the Debt (April 28, 2018), Miller offers a unique perspective that gives fresh insight into common sources of brokenness within Christian marriages. Miller, her husband, Joe, and their three children live near Washington, DC, where they own and operate an organic farm. When not writing, Miller loves doting on her six prized fiddle leaf fig trees. Learn more about Meg at www.benefitofthedebt.com.