The Fiddle Leaf Fig Plant Resource is committed to giving back and helping others in our community and collaborating with other fiddle leaf fig lovers.
Here are causes we have supported in the past. If you would like to inquire about collaborating, click here to send us an email.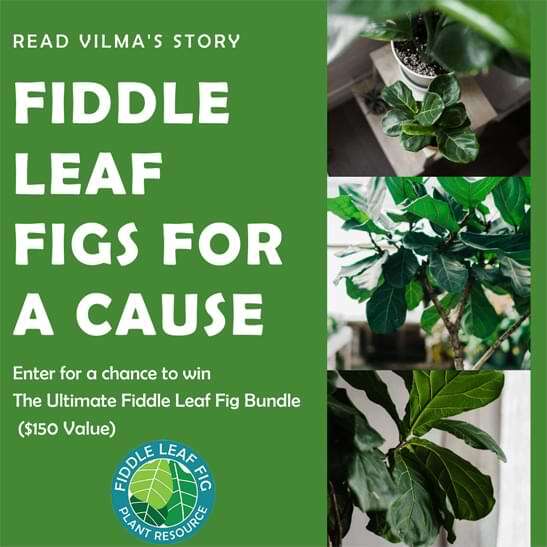 This raffle was created to help fiddle leaf fig lover Vilma (92 years old). Vilma has been growing fiddle leaf figs for decades. She has one large plant that she has used to propagate many smaller plants.
Recently, three separate falls and medical troubles have forced her to find a new home for five of her fiddle leaf fig babies. She contacted The Fiddle Leaf Fig Plant Resource Center for help.
We've picked up her beautiful plants and want to find them good homes. We'll be including free shipping anywhere in the domestic United States, as well as adding all of our fiddle leaf fig products (a $150 value) for 5 lucky winners!
To enter, buy a raffle ticket, share on social, or text to give to Vilma's cause and 100% of the entry funds will go directly to Vilma.
Five lucky winners will receive The Ultimate Fiddle Leaf Fig Bundle, including:
One live fiddle leaf fig plant
Premium Fiddle Leaf Fig Potting Soil
Fiddle Leaf Fig Soil Meter
Fiddle Leaf Fig Plant Food
Fiddle Leaf Fig Root Supplement
Fiddle Leaf Fig Leaf Armor Spray
The Fiddle Leaf Fig Expert book
---
2nd Annual Plant Swap
San Francisco Bay Area: July 2020
Michelle Wong with The Plant Visual
The Fiddle Leaf Fig Plant Resource donated 80 bottles of Orchid Plant Food.
---
Essentials for Fiddle Leaf Figs:
---
To learn more: