Fiddle leaf figs are some of the most stunning houseplants out there, but they're not always the easiest to take care of.
They require excellent drainage, which can seemingly limit your pot options. They can grow massive, which makes them difficult to move. And, of course, there are all the regular annoying things with being a plant parent in general, like pots marking up your floors and furniture!
We've gathered some of our favorite hacks for taking care of your fiddle leaf fig. We hope these make your life a little easier and help you grow a healthier, more beautiful tree!
Our Favorite Fiddle Leaf Fig Hacks
Hack #1: Put your fiddle's pot on rollers.
Fiddles are trees, which means they can get big and heavy! If you're potting your large fiddle in a massive ceramic planter with a drainage tray, you're going to have a hard time moving your plant around for showers, repotting, watering, draining, relocating, etc.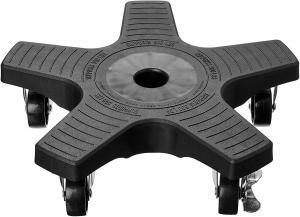 I love to put my larger trees on rolling plant platforms or dollies to make moving them easier (or even possible in some cases!). You can find these at hardware stores or online. They come in tons of different styles, so you should have no trouble finding one to match your planter and decor.
Hack #2: Double potting
Speaking of planters…
One of the first rules of fiddle leaf fig care is to make sure your plant has excellent drainage. But what if you fall in love with a planter that has no drainage holes? What if you want to put your tree in a basket? (This is my favorite!)
You have two options here. One: drill holes in the planter. This isn't a bad idea, but it can be difficult with a lot of planters due to their size and material. And not everyone has a drill or the skill to do this.
So there's always Option 2: plant your fiddle in a lighter, inexpensive pot with excellent drainage and place that inside your decorative pot! This is the one I use for all of my plants.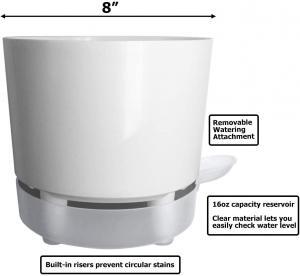 This works really well for small- to medium-sized trees that are easy to lift in and out of the planter. When you water the plant, simply remove it from the decorative planter and place it in a sink, shower, or outdoors where it can drain. Add your water, let it drain, and replace it in the decorative pot or basket!
Hack #3: Felt feet on pots
Are your ceramic planters scratching up your floors and furniture? Not good!
This drove me crazy until I realized that I could put simple felt pads on the bottoms of my planters! Chances are, you may have some of these laying around that came with furniture you purchased, but you can also buy them at most stores and online.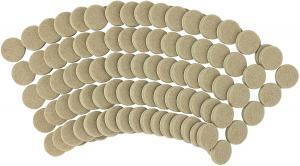 Just stick three or four (or more for larger pots) on the bottom of your planters, and you're good to go! This will protect your floors, windowsills, and furniture from scratches, sticking, and other damage from pots.
Hack #4: Use a turkey baster to empty large drainage trays.
If your fiddle is getting quite large, you might have a hard time moving it in order to empty the drainage tray after watering.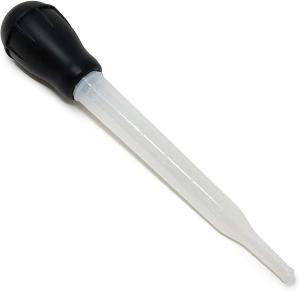 Instead of moving the entire plant, simply use a turkey baster to suck up the excess water! This is a quick and easy way to ensure that your plant isn't sitting in water, and you won't throw out your back trying to move your 7-foot fiddle beast!
Hack #5: Protect your leaves with Leaf Armor.
The best part of a fiddle leaf fig is…the leaves! Unfortunately, that's also the first place where problems show up. Over-watering, under-watering, lack of humidity, bacterial infections, insect attacks…all these problems affect the leaves.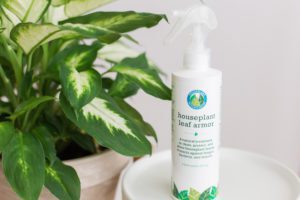 We created Houseplant Leaf Armor to be an all-in-one product to clean and protect your fiddle's leaves from pests, bacteria, fungus, dust, and debris, and keep your leaves looking shiny, green, and beautiful! This is a great time-saver and preventative measure to protect your leaves from threats and keep them nice and clean.
Bonus: It works well for all leafy houseplants, so the rest of your plants can enjoy it too!
Make sure to check out Leaf Armor here.
We hope these tips help you to take even better care of your beloved fiddle. To share your own fiddle leaf fig hacks with other plant lovers, join our active Facebook community!
Grab the Essentials for Your Fiddle Leaf Fig:
To learn more: