Fellow fiddle leaf fig lovers, I came across something online that I'm more excited about than Christmas morning. It's a variegated fiddle leaf fig plant and there are only a handful of pictures of it out there on the internet. Here's what it looks like!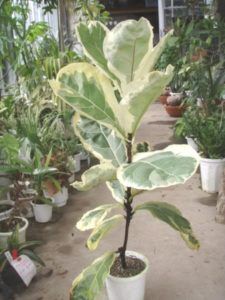 I've always been drawn to variegated plants, from my peacock plant to my prayer plant to my variegated philodendrons. But this is really something spectacular, combining the wow factor of a fiddle leaf fig with beautiful variegation that looks like the leaves were painted by the hand of God.
As soon as I saw it, I knew I needed to have one. The problem is that there are currently no growers in the United States. There are a few out of Asia, but I'm concerned their quality may be lacking. On their website, it even states that "losing leaves during shipping is normal" so I don't have high hopes for the health of the plant when it arrives.
Variegated Fiddle Leaf Fig Tips
In any case, I've ordered my first plant from Thailand and will update you as soon as it comes in. There are so many questions about a variegated fiddle leaf fig including:
Will it be hard to grow?
Will it be susceptible to pests or disease?
Will it need more sunlight than a normal fiddle leaf fig?
Will it grow as large as a traditional fiddle leaf fig?
I can't wait to get my new plant and answer some of your most pressing questions. For now, I think we can all agree on its unusual beauty and striking appearance. Fingers crossed for a healthy new fiddle leaf fig that can start the next big houseplant trend! Make sure you're signed up for our newsletter so you can get the latest updates!
To learn more, sign up for our Fiddle Leaf Fig Care 101 Webinar and get your Fiddle Leaf Fig Plant Food here.
Read The Fiddle Leaf Fig Expert, your complete guide to growing healthy fiddle leaf fig plants. The book is available in full-color paperback or Kindle edition on Amazon now!
Click to join our community on Facebook: Fiddle Leaf Fig Plant Resource Group.