Webinar: Fiddle Leaf Fig Care 101
---
An exclusive 30-minute presentation
to help your fiddle leaf fig look its best!
What to Expect in This Webinar
Join us for an exclusive webinar to learn everything about taking care of your fiddle leaf fig plant!
In this 30-minute presentation, we'll review care tips, tricks, and answer your questions. We'll discuss:
The Benefits of Your Plant
Fiddle Leaf Fig Care 101
The 10 Commandments of Fiddle Leaf Fig Care
The Secret to Proper Watering
The Best Fertilizer to Use
Before & After Photo Contest!
Plant Giveaway Worth $600!
How to Learn More
Stick around until the end of the presentation to learn more and to save $20 on The Fiddle Leaf Fig Course!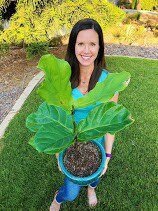 Claire Akin, The Fiddle Leaf Fig Plant Resource Center
Claire is an expert on fiddle leaf fig plants, houseplants, and hybrid tea roses. She is the author of The Fiddle Leaf Fig Expert and an instructor at UCLA Extension.