We recently did a poll in our Fiddle Leaf Fig Facebook Group asking for your favorite accessories for your fiddle leaf fig plant. At the top of the list? Baskets! But where do you find a great basket for your plant? Here's our guide for getting a great deal on a basket to dress up your fiddle leaf fig.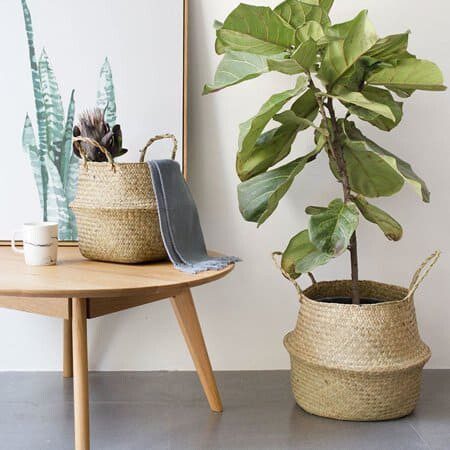 Repot and Measure First
Now is a good time to repot your plant if you have not done so in a year or two. This way, you can get a basket to fit your new larger interior pot and the arrangement will last for a few years.
Before you shop, you'll want to measure the diameter and height of your container to make sure it will fit within your basket and look great. The basket should be 4 to 6 inches wider than the diameter of your plant's container and at least 4 inches deeper so the interior pot doesn't show.
Decide Where to Shop
There are a lot of options when it comes to selecting a basket for your fiddle leaf fig. You'll want to strategize when deciding where to shop. If you're going to shop in person, it's really helpful to bring a tape measure to measure the basket options at the store to make sure they'll fit. Here are our favorite places to buy baskets for your fiddle leaf fig.
TJ Maxx, Marshalls, and Ross
Most people don't realize that discount stores like TJ Maxx, Marshalls and Ross have amazing deals on pots and baskets. I've found the majority of my favorite pots at these stores for a fraction of the cost at a nursery. You can expect to pay between $10 and $20 for a basket here.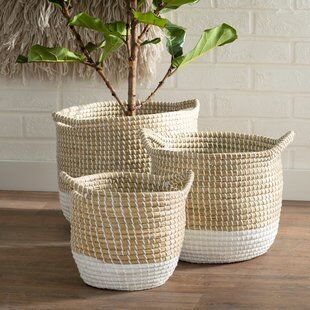 Home Goods or Cost Plus World Market
If you have a Home Goods or Cost Plus World Market nearby, check out their basket selection to see if they have options that will work for you. You may pay a few dollars more than TJ Maxx or Ross, but there is typically a larger selection to choose from, making your job easier. They also have mid-century style planters at a fraction of the cost of Amazon.
IKEA
IKEA often carries great looking baskets and fiddle leaf fig plants! They typically have the popular tiered style in this photo.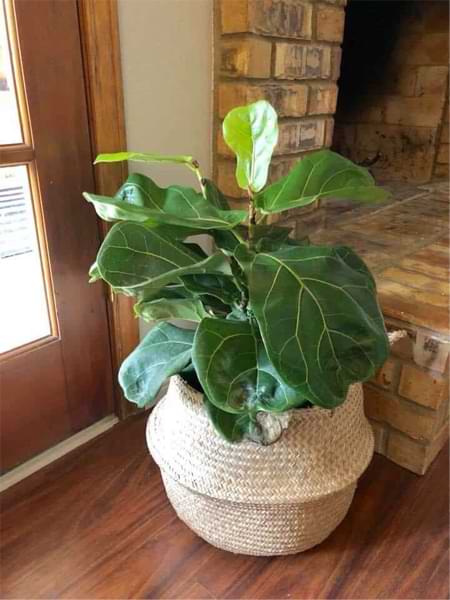 Amazon
There are great inexpensive options available on Amazon, but be careful to read the description and measurements carefully. If the basket doesn't fit your plant, returning can be a bit of a hassle. This option comes with both diameter and height measurements, so you can be sure your plant will fit.
Add a Drainage Tray
Make sure your interior pot has its own drainage tray or add a secondary plastic or ceramic drainage tray to make sure your plant doesn't leak water and ruin your basket.
Sit Back and Enjoy
Now that you have your gorgeous plant in a beautiful basket, sit back and enjoy the ambiance it provides. There's nothing quite like a stunning fiddle leaf fig in a natural basket to add warmth, style, and charm to your home.