When fiddle leaf figs (and many other plants) develop problems, the main place it shows up is the leaves. Damaged fiddle leaf fig leaves can have many causes.
Root rot, under-watering, sunburn, fungus, bacterial infections, insects, and lack of humidity can all damage the leaves and form brown spots, yellowing, or holes.
The trouble is, what do you do with those damaged leaves?
Will they heal themselves?
Should you leave them on the tree or remove them?
To Prune or Not to Prune Damaged Fiddle Leaf Fig Leaves
Damaged leaves look bad, and certain conditions (like bacterial infections) can actually spread if those leaves are left on the tree. However, fiddle leaf figs are very sensitive to change, as every fiddle leaf fig owner knows, and removing leaves can send the tree into shock.
This can ultimately do more harm than good and cause the tree to drop even more leaves.
So when should you prune and when should you leave them?
Sometimes the answer isn't clear. Some trees will do just fine if you remove some leaves, and others will struggle.
Note: Always, ALWAYS use clean, sharp pruning shears or knives to remove leaves.
Dirty tools can spread fungus, bacteria, and other nasty stuff to your plants and dull tools can crush the stems, which only makes matters worse.
Also, keep in mind that your fiddle leaf fig will ooze white sap when you remove a leaf. This sap can irritate your skin, so make sure to wear gloves.
Here's our advice to prune and when to leave the leaves alone.
To Prune Damaged Fiddle Leaf Fig Leaves:
Bacterial Infection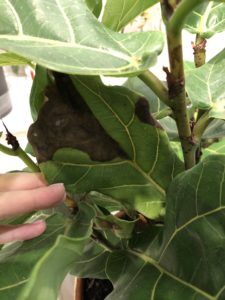 If you suspect your fiddle leaf fig is suffering from a bacterial infection, remove the affected leaves immediately to prevent the bacteria from spreading. This could save your tree.
Root Rot
If your tree is suffering from root rot, treat the roots with our Root Rot Treatment and remove the damaged leaves to keep the rest of the tree healthy.
Drooping Lower Leaves
On fiddle leaf figs, the lower leaves tend to droop naturally and may eventually fall off on their own, but you can trim up to 10% of the leaves from a healthy tree without causing problems. It looks so much nicer!
Read this post for more help: How to Prune a Fiddle Leaf Fig.
Torn Leaves
If a few leaves tear when being moved or after run-ins with a child or pet, a healthy tree can stand to lose those leaves without going into shock. Go ahead and prune them.
Not to Prune (Maybe) Damaged Fiddle Leaf Fig Leaves:
Edema
If your new leaves have red speckles, it's likely edema and caused by irregular watering. If you correct the problem, the spots will disappear as the leaf grows.
Read more about Red Spots on New Growth on Fiddle Leaf Fig Trees here.
Dry Leaves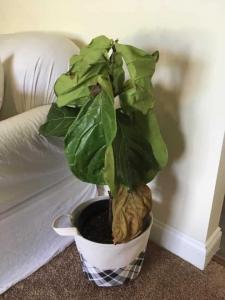 Dry leaves will not recover, but the tree will most likely drop them naturally.
They won't look good for a while and the tree won't waste resources on completely dead leaves, but you won't risk shock that way. You could prune them, or you could leave them. It's up to you.
Yellow Leaves
Brown leaves almost never go back to green, but there's hope for yellow leaves!
Yellow leaves indicate a problem, but they are still alive, so make sure to correct the problem so those leaves can recover.
Read more about How to Fix Yellow Fiddle Leaf Fig Leaves here.
Insects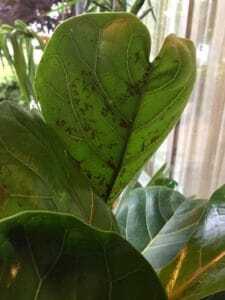 This one may or may not require pruning, because it's really up to you.
If the leaf has holes or brown spots, it won't recover, but focus on removing the bugs, not removing the leaves in this case. Once the problem is gone, you can prune the damaged leaves easily.
(Remember, insect infestations are easy to treat. Use our Houseplant Leaf Armor, designed for houseplants to protect against insects, bacteria, and fungus. This product works just like neem oil but without the unpleasant smell! As an added bonus, it also cleans and adds shine to your houseplant's leaves!)
In the meantime, you don't want to cause more stress to your tree than necessary.
Pruning Damaged Fiddle Leaf Fig Leaves
Ultimately, pruning is up to you, so it's important to weigh the pros and cons.
Pruning can shock the tree (especially if it's unhealthy), but removing damaged leaves can also help the tree recover. When in doubt, remove a few leaves and wait to see how your plant reacts. If it seems to handle it well, remove a few more a week or two later.
For more information, be sure to read our article on pruning and shaping your fiddle leaf fig here.
Grab the Essentials for Your Fiddle Leaf Fig:
To learn more: