This week, Andy Burde from HousePlantShop.com joins us to share his expert insights on how to care for a fiddle leaf fig! Andy and his team run one of the top online houseplant shops and care for numerous varieties of plants. He especially loves his fiddle leaf fig plants and is happy to share his secrets for a healthy and happy plant.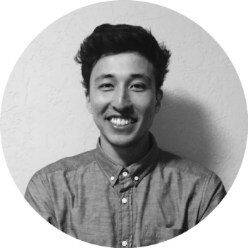 Andy is the co-founder of House Plant Shop and grew up caring for and growing plants. His fascination with plants started in the wilderness backcountry of Northern California where Andy spent a lot of time exploring. To share the best plants with the world, House Plant Shop was created to offer the healthiest plants available online.
How to Care for a Fiddle Leaf Fig
What do you think are the most common mistakes people make with houseplants?
I think people think it's harder to grow houseplants than it is. All plants need is a little light and water to thrive. If you're attuned to your plant, growing can be a very fulfilling and enjoyable experience.
One of the most common mistakes I see is that people over water the plants. In an effort to help them grow, they kill them. Another very common mistake is not having proper drainage. That's a serious mistake that can kill your plant in a hurry.
Where can you buy a healthy plant? What's important to look for in a houseplant grower?
At HousePlantShop.com, we work with growers that can consistently provide A-grade plants. Our growers are large-scale operations that can provide us with a wide array of plants instead of relying on a large group of small growers that may not have consistently high-quality plants. Any new plant should be free of pests, disease, and should be in overall strong health.
How do fiddle leaf fig plants grown by different growers vary in quality?
Quality of your new plant is important, since houseplants can last a lifetime or longer! We believe quality is affected by the climate of the area the grower is in as well as the different facilitates and processes with which they operate. It's worthwhile to invest in a high-quality plant that will give you fewer problems and be more rewarding to have in your home.
What's your best advice to a new fiddle leaf fig owner?
Don't be afraid to fail. Plants are hardy creatures if you give them a little care. When you get your plant home, move it around your apartment or house until you find an optimal place with plenty of indirect sunlight. Take stock of your plant every week to watch out for problems and treat them as soon as you see them.
What are the common issues you see with fiddle leaf figs and the solutions?
Our fiddle leaf fig plants are really hardy and do very well for our customers. We have heard of people seeing brown spots if they over water their plants.
What's the best way to dress up a houseplant?
Be creative! We've worked with baskets, clay pots, ceramic pots from local small business and more. The more unique the better. Just don't forget about being able to drain the water from the pot. I recommend putting your plant's original pot within a secondary decorative pot. Whatever you do, just don't leave it in the black grower's pot without adding something to dress it up.
Why do you think houseplants are important in our homes?
Plants are amazing, both indoors and out. They are natural air purifiers and have nothing but positive effects towards the world around them. We are glad to see and be part of the movement to add more plants around the world! Plants can be found within homes, offices, and public places, and we think the addition of houseplants will positively help people connect with nature and lead happier and healthier lives.
Learn More About HousePlantShop.com
We're excited to announce that we've partnered with House Plant Shop to offer Fiddle Leaf Fig Plant Food as an add-on item when you purchase a Fiddle Leaf Fig from their store!
HousePlantShop.com is one of our favorite ways to buy plants online. They offer a one-of-a kind online subscription to get a new and unique houseplant every single month. They also have an online store with a great selection of plants including fiddle leaf figs!