Around here, we're big fans of our Fiddle Leaf Fig Food.
I developed this special fertilizer for fiddle leaf figs after years of owning these gorgeous plants because other fertilizers just weren't cutting it. I also couldn't remember the schedule on which I was supposed to be fertilizing!
Tons of other fiddle owners are loving Fiddle Leaf Fig Food as well. We've seen some truly incredible transformations, which really attests to the importance of giving your fiddle the proper nutrients.
Here are our favorite Fiddle Leaf Fig Food before and after photos.
Fiddle Leaf Fig Before and After Photos:
This plant put out tons of new growth after being reduced to just a stick!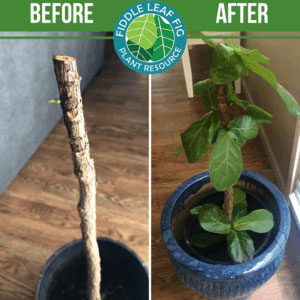 From yellow, dull, and sickly to deep green and shiny!
This tree started from a good place and grew like CRAZY once it had the right nutrients!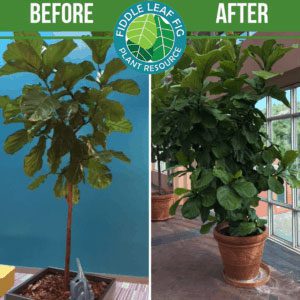 This tree produced larger, healthier leaves!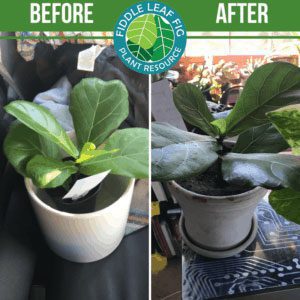 This fiddle grew taller and stronger in no time.
From long and lanky to full and thriving!
This tree grew taller after adding Fiddle Leaf Fig Food to its care routine.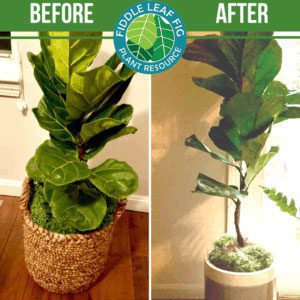 This tree more than tripled its total leaf count!
The Best Fertilizer for Fiddle Leaf Figs
Fiddle Leaf Fig Food has done wonderful things for my own trees, and it's been a life-saver for lots of other fiddles in our community.
This liquid fertilizer contains the perfect ratio of nutrients to support upward growth, healthy leaves, disease resistance, and strong root structure in fiddle leaf figs, which produces gorgeous, thriving trees!
The best part is it's easy to use because it's designed to take the guesswork out of fertilizing schedules. You can simply add it to your watering can each time you water your fiddle so it becomes a habit instead of something you have to remember to do sometimes.
Read more about our fiddle leaf fig plant food.
Your fiddle will thank you 🙂
To ask questions about your fiddle leaf fig and connect with other houseplant lovers, join our community on Facebook.