When I started this website, I knew I wanted to create a space for other fiddle leaf fig owners to ask questions and share their stories for other fiddle leaf fig lovers to hear and learn from. Today you'll meet our Fiddle Leaf Fig Member of the Month!
The Fiddle Leaf Fig Resource Center Facebook Group is over 47,000 members strong. Members can post photos, videos, and ask questions about their plants and receive advice quickly from other fiddle leaf fig owners in the group.
Many of the members are expert fiddle leaf fig growers, and so their knowledge is appreciated!
One such member is Marty Spence. She has been a part of the group since the beginning, and she continues to help other fiddle leaf fig lovers each and every day.
Marty is our first Fiddle Leaf Fig Member of the Month! I asked her a few questions about her plants and asked what her best advice for fiddle leaf fig owners would be.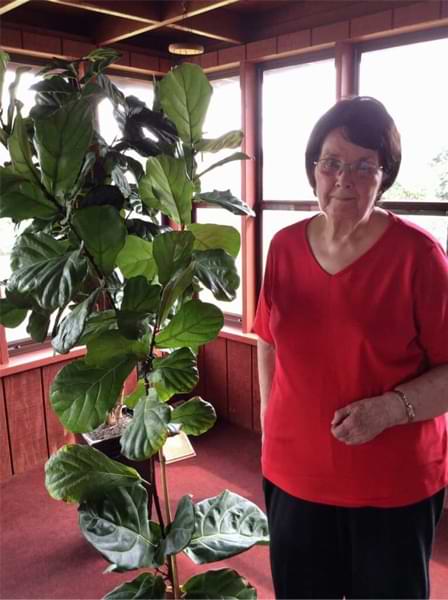 How many fiddle leaf fig plants do you own?
I have one fiddle leaf fig and I named it Miss Figgy.
What is the number-one Fiddle Leaf Care Tip you would like to share?
You should keep their leaves clean!
Wipe them weekly with distilled water and soft cloth. Dusty and dirty leaves prevent photosynthesis.
What is the biggest fiddle leaf fig care mistake you see?
The biggest mistake I see is overwatering. These plants don't need near as much water as people think they do. Putting them in the shower and hosing them down, and then they wonder why they are getting brown spots and root rot. When I first got my plant, I was overwatering it.
I changed my watering to the cup method that Claire Akin, our founder of this Resource Group, recommends. At that time my plant was barely 23 inches tall, and now, just a year later, it's 6 feet tall!
I owe my plant's growth to this cup method of watering and the Fiddle Leaf Fig Plant Food. I use my moisture meter faithfully when I get ready to water it. The meter saved my plant's life when I first got it. I urge everyone to use the meter! They are very accurate if you use them correctly.
As a thank-you to Marty for being our Fiddle Leaf Fig Member of the Month, Marty will be receiving The Ultimate Fiddle Leaf Fig Bundle. Buy this bundle and you will save over 15% on the following products: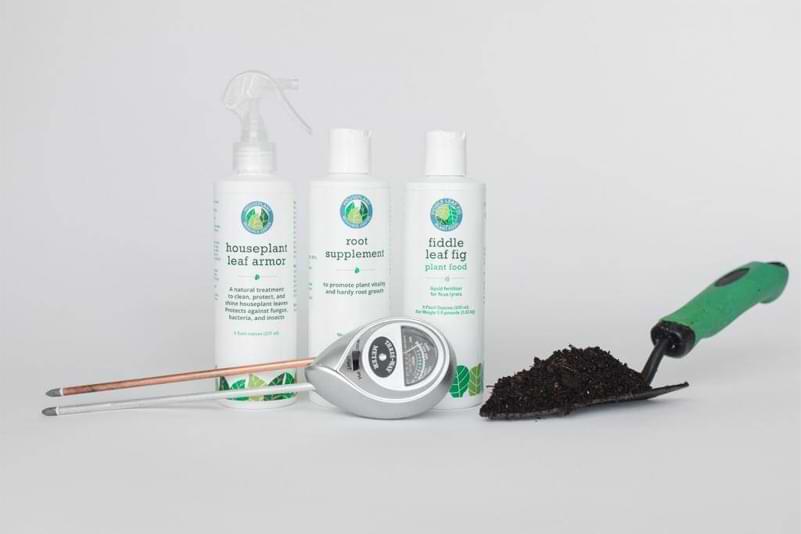 Congratulations, Marty! And thank you for sharing your advice and encouragement with our Fiddle Leaf Fig Plant Resource Center community!
To learn more:
Grab the Essentials for Your Fiddle Leaf Fig: