Fiddle leaf figs are amazing houseplants, so we want to help you quickly nip any issues in the bud. This article will cover new leaf troubleshooting for fiddle leaf figs!
New Growth Issues on Fiddle Leaf Figs | New Leaf Troubleshooting for Fiddle Leaf Figs
New growth is a sign of a healthy fiddle leaf fig! If you notice new baby leaves on your fiddle leaf fig, you're understandably ecstatic.
But maybe you notice problems.
Maybe your baby leaf comes out covered in red dots, or dries out and falls off, or grows out with holes.
What's going on? Let's take a look at some of the most common problems with new leaves and what you can do about them.
Red Spots on New Leaves | New Leaf Troubleshooting for Fiddle Leaf Figs
This is the most common issue we hear about with new leaf troubleshooting for fiddle leaf figs, but it's usually very fixable!
The most common cause of red or brown spots on new leaves is edema, which is caused by inconsistent watering. When a plant absorbs too much water, the cells can burst, so those little spots are actually bruises.
Luckily, mild cases of edema are normal and even a good sign, because your tree needs more water during growth spurts.
Think of it as a fairly harmless sign to dial in your watering routine. Read our Ultimate Watering Guide here.
Read more about red spots on your fiddle leaf fig.
Holes in Your New Leaves
Baby leaves can grow out with holes when the leaves are too dry.
They can stick together or to their casings as they sprout, which can tear holes.
This is usually a sign that the air is too dry and your plant would prefer higher humidity.
We don't recommend misting your fiddle leaf figs because it interferes with respiration, photosynthesis, and can encourage powdery mildew, but consider setting up a humidifier in the room with your fiddle leaf fig (but don't aim it right at the plant). Especially if you live in a dry climate. Humidity trays are also a good option.
Also, make sure the new growth doesn't get direct sunlight, as this can also dry out the delicate new leaves.
Drying Up, Shriveling, and New Leaves Falling Off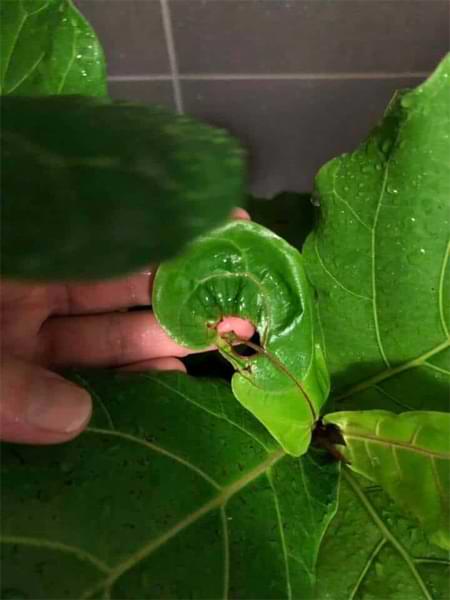 Fiddle leaf figs need more water during growth periods, so make sure you're watering the correct amount.
(I know, watering can be so confusing! I find it best to take cues from your plant instead of watering on a strict schedule.) Read to learn more about watering your fiddle leaf fig plant. Using a moisture meter like this one is also helpful to let you know exactly how thirsty your plant is.
Also, regularly check your plant and especially the new leaves for insects.
Pests like spider mites tend to go for the new leaves first because they're less tough than the mature leaves. Use a magnifying glass to check under the leaves. If you notice small moving dots or webbing, use a strong jet of water to dislodge them.
New Leaves Are Smaller Than Older Leaves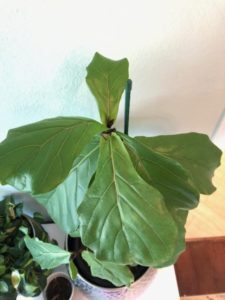 Growing new leaves requires a lot of energy and resources from the plant. New leaf troubleshooting for fiddle leaf figs is important to consider! Smaller leaves indicate a lack of resources like water, light, or fertilizer. Make sure you're giving your tree the correct amount of water, plenty of indirect sunlight, and fertilizing regularly (we recommend Fiddle Leaf Fig Plant Food).
We hope this new leaf troubleshooting for fiddle leaf figs guide has been helpful. Remember, the best way to promote healthy growth is to cover all your fiddle leaf fig care bases, including correct watering, lighting, temperature, humidity, and fertilizer.
Grab the Essentials for Your Fiddle Leaf Fig:
To learn more: