By far, the very best resource for fiddle leaf fig caregivers is the thriving Facebook group called the Fiddle Leaf Fig Resource Group. It is there that owners of this remarkable plant can post pictures and get instant advice from fellow fiddle enthusiasts. (Side note: If you haven't already, you should join us there.)
Remarkably, about 90% of the problems posed in the group can be alleviated if the original poster could give their plant more consistent exposure to bright sunlight.
Despite popular belief, these plants are full-sun organisms, soaking up as much solar energy as any plant. As a tropical plant from the western Africa rainforest, it needs plenty of warmth, direct light, and humidity to thrive.
So when they don't get as much sun as they like, they let you know.
Here are 7 telltale signs your ficus lyrata plant could use more sun exposure.
1. Slow Growth
These plants are fast growers; they should grow like weeds! When they don't, it's a sign they are recovering from something (like being relocated, treated for insects, or rescued from root rot).
Fiddle leaf fig trees tend to stop growing when they need to concentrate on recovery.
However, if there's nothing your plant needs to recover from and it's still not growing, then you probably are not giving it enough light to thrive.
Want specific expectations for how long these trees should take to grow? In ideal conditions, they're able to grow between five and eight feet per year!
You can easily help your fiddle leaf fig grow quicker first by ensuring it gets enough bright light, but also paying attention to other important growth factors like giving it enough water, a high-quality potting mix, and ensuring the pot it lives in has proper drainage holes.
2. Leggy
Another surefire way to tell if your fiddle leaf fig tree needs more sunshine is to measure the distance between leaves.
A fiddle that has plenty of indirect light exposure each day will sprout leaves closer together than one that must reach for its solar energy.
Here's an example of a fiddle leaf fig that showed these exact symptoms. I bought this awesome plant for my mom exactly two years ago: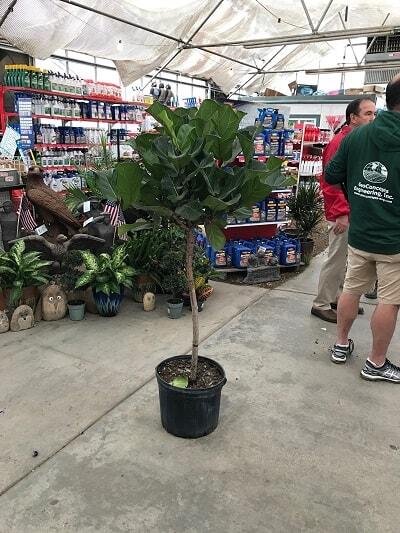 As you can see, its greenhouse living conditions provided tons of sunshine, which allowed the leaves to be close together, but not too close as to suffocate one another. It was perfect.
The only problem?
I neglected to scout a bright spot in my mom's house before sending it over to her. The best location she could find in her home was near a window, but it did not get much sunshine.
A year later, she managed to haul the big plant outdoors for some summer rays and humidity, but already, as you can see, the branches were beginning to reach:
The summer was good to this fiddle leaf fig tree, but then winter months came, and it had to go back indoors.
Within a few months, it was begging for more light.
Here it is today: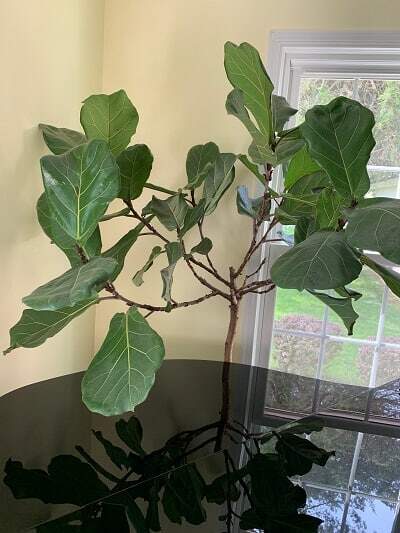 Keep an eye out for this leggy, "reaching" look and treat it quickly by scooting your plant closer and closer to direct sunlight, preferably in a west-facing window for the afternoon sun. An east-facing window could also be a good choice for your fiddle leaf fig, too.
3. Dull Spots on Leaves
When a ficus lyrata needs more sunlight, its leaves will often show grayish, lusterless spots.
These spots aren't noticeable from afar, since they're not brown spots, crispy, or dead—just dull. Usually the dull spots are circular and range between dime-sized and baseball-sized. They're most noticeable on dark, mature leaves.
If you're not sure whether your fiddle's dull spots are due to lack of sufficient light, post a picture in our online community. We will help confirm your suspicion or reassure you of normal foliar health. (For more information on dark spots on your plant, click here.)
4. Leaning Toward Windows
This symptom doesn't need much explanation. You'll know your plant is communicating its need for more sunshine if you see it turning, leaning, or bending toward the nearest window.
Please do it a favor and give it what it's asking for.
If, like in the above example, the plant is already in front of the nearest window, consider elevating it with a trendy mid-century modern container like this Modernica ceramic planter with wood stand.
Many fiddle owners make the mistake of believing a weekly rotation of the plant is enough to satisfy its sunlight needs. But if it's leaning, you'll want to bite the bullet and find it a new location altogether.
5. Suffers When Moved
Want to know a secret? Yes, this plant is known for throwing fits when relocated. But with adequate daily light exposure, it'll tolerate most environmental changes just fine.
Here are a few specific scenarios:
You should be able to let your plant come in for a couple days during tornado (and later, hurricane) season without it wilting.
It shouldn't go limp every time you drag it into a windowless shower for a drench-and-drain.
When company comes over, you should be able to move it into the corner away from the window without worrying.
Slowly acclimate it to as much sunshine as you possibly can. But, again, do it gradually. When you do, your plant will respond much more favorably to environmental changes and relocations.
6. Yellowing Lower Leaves
The yellowing of lower leaves is usually attributed to under-watering. And often it's true—but the obvious solution of more water would cause root rot.
That's because a lack of direct light means even the best substrate cannot properly dry out evenly, which means some roots rot while others die of thirst.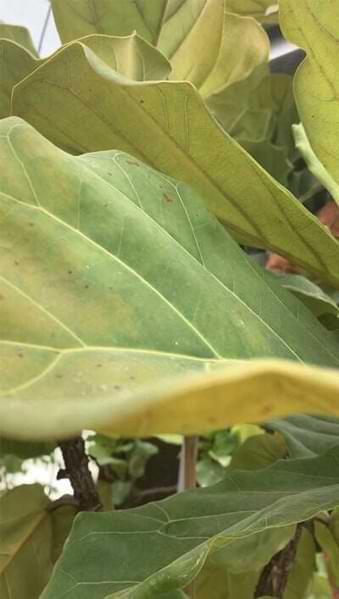 It's a lose-lose situation, and sadly, too many plants suffer while their caregivers stress over watering routines without considering the other part of the answer: an increase in light exposure.
Make sure you're giving it enough direct sun, and keep a good watering schedule for your plant. Consider placing a humidifier near your plant to satisfy its humidity requirements without risking root rot. In some situations, you may need to repot your plant in fresh soil to get it back it good health and back to maintaining green leaves instead of yellow ones.
If not treated with a combination of both more sunshine and more water, the whole specimen will present these yellowing leaves—until the inevitable end.
7. Small New Leaves
New growth that appears smallish can mean a number of things are wrong with your plant's living conditions, but the most common cause of tiny new leaves is a low light environment.
Again, don't make the mistake of over-correcting and moving your plant to direct sunshine without a patient, gradual acclimation period. But do make the effort to get it into more light while optimizing other factors like the perfect humidity level, temperature, and watering/feeding routine.
To recap, the 7 signs your fiddle leaf fig plant needs more sunlight:
Slow (or no) growth
Leggy reaching
Dull spots on leaves
Turning toward light sources
An inability to handle healthy changes
Yellowing leaves
Small new growth
If you see any of these signs, you may easily be able to help your plant with these issues by giving it more access to the sun's life-giving rays.
And when you do, snap a photo to share with our group. Who knows, it may be the "before" picture to a dramatic before-and-after story.
Next Steps
For more tips on creating the perfect environment for your fiddle leaf fig tree to thrive, read The Fiddle Leaf Fig Expert, your complete guide to growing healthy fiddle leaf fig plants. The book is available in full-color paperback or Kindle edition on Amazon now!
Grab the Essentials for Your Fiddle Leaf Fig:
To learn more: