Wondering where to buy a fiddle leaf fig tree? There are a lot of options available, depending on how large of a plant you're looking for. If you're ready to make the investment in a fiddle leaf fig tree, you'll want to spend some time researching your options and choosing the best plant for you.
Especially since your new ficus lyrata may live longer than you do, the plant you buy is important. Here's where to buy a fiddle leaf fig tree.
Where to Buy a Fiddle Leaf Fig Tree Locally
1. Home Depot or Lowe's
Check your local home store's indoor house plant selection for great deals on a fiddle leaf fig plant. Smaller plants under three feet are often priced at around $25, which isn't a steal but is a fair price for a healthy plant. You'll often find excellent deals on large fiddle leaf fig trees here. I purchased a 6-foot tall tree at Home Depot for $99, which certainly would have been at least $200 in a plant nursery.
Keep in mind you'll need to transport the plant home, which can be a real challenge if you're buying a larger plant. Mine suffered minor damage lying on its side in my small SUV. Be sure to repot your new plant as soon as you get it home, as Home Depot sells notoriously dry plastic pots that need to be watered every single day until you repot.
2. IKEA
Ikea often has sales on small fiddle leaf fig plants from $12-15. You won't find a giant tree here, but for a starter plant, you can't beat the price. Choose the healthiest plant you can find and expect to spend a few years watching it grow.
3. A Plant Nursery
For larger plants with guaranteed health, a plant nursery is the way to go. Expect to pay more ($200-$300) for a 6-foot tall tree, but you'll often find higher quality plants raised by experts here. You may want to call first since not all nurseries have fiddle leaf fig trees in stock.
Where to Buy a Fiddle Leaf Fig Plant Online
Fiddle Leaf Fig Plant Resource Verified Partner, HousePlantShop.com
We've partnered with HousePlantShop.com, which sells very high quality, well-grown fiddle leaf fig plants through the mail to all of the lower 48 states. Their specimens are 25 to 28 inches tall and fit perfectly in a 12 inch diameter pot. They have a single trunk that is relatively strong compared to other plants I've purchased.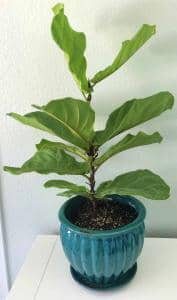 This style of plant is a taller, thinner plant that is more like a tree's shape. Because they arrive in excellent health, they begin growing quickly. The plants I've ordered from this grower have not experienced any shock or leaf drop upon arrival. Watch this video about the experience and purchase the items below to create your beautiful fiddle leaf fig display! Buy yours online now for $22.99.
Fiddle Leaf Fig Unboxing and Repotting Video
How to Buy
To create this design, you will need a 12-inch ceramic planter, two bags of MiracleGro indoor potting mix, and the plant itself. Click below to order yours today!
The total for this plant, the pot, the plant food, and the soil is about $125.
Costa Farms is the largest grower of fiddle leaf fig plants in the country and has extensive experience shipping their plants through the mail. While I have not purchased one of their plants directly, the owner has committed to a 100% satisfaction guarantee for Fiddle Leaf Fig Plant Resource customers.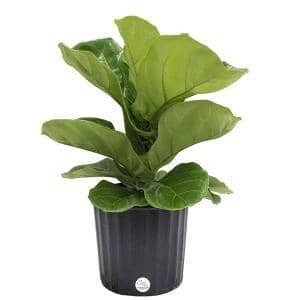 Their prices and shipping are some of the lowest available, so if you're looking for a great deal on a fiddle leaf fig, this is your best option. Their fiddle leaf fig plants are about 18 to 24 inches tall and come in an 8.75 inch grower's pot, ready to be repotted into a 10 or 12 inch pot. This style of plant is a shorter, fuller plant that is more of a bush shape. Unfortunately, they do not ship to Alaska, Arizona, California, Guam or Hawaii.
How to Buy
The total for this plant, the pot and stand, the plant food, and the soil is just under $100.
We are always looking for more partners, especially for larger plants, so stay tuned and check back regularly. To get updates on our verified partnerships, sign up for our newsletter today!
Read The Fiddle Leaf Fig Expert, your complete guide to growing healthy fiddle leaf fig plants. The book is available in full-color paperback or Kindle edition on Amazon now!