Here at The Fiddle Leaf Fig Plant Resource, we receive tons of correspondence each and every day. We decided to take action and create Fiddle Leaf Figs for a Cause when we recently had a fiddle leaf fig lover, Vilma, reach out to us for help.
Vilma has been growing fiddle leaf figs for decades. She has one large plant that she has used to propagate many smaller plants.
Recently, three separate falls and medical troubles have forced Vilma to find a new home for five of her fiddle leaf fig babies. She contacted us for help.
We've picked up her beautiful plants and want to find them good homes.
Fiddle Leaf Figs for a Cause: Enter by clicking here to buy a raffle ticket, share on social, or text to give to Vilma's cause and 100% of the entry funds will go directly to Vilma.
At 92 years old, Vilma worries a lot about money. Her only daughter passed away over 40 years ago suddenly at the age of 49. Since then, all of her friends and family have passed away. She lives alone and her health has deteriorated in the past few years. She has no income other than Social Security. Her home health team has determined that it's time to find an assisted living facility to help with tasks like bathing, cleaning, and preparing meals. Funds raised from the raffle of Vilma's plants will be used to support her home healthcare costs and her transition into assisted living.
We'll be including free shipping anywhere in the domestic United States, as well as adding all of our fiddle leaf fig products (a $150 value) for 5 lucky Fiddle Leaf Figs for a Cause winners!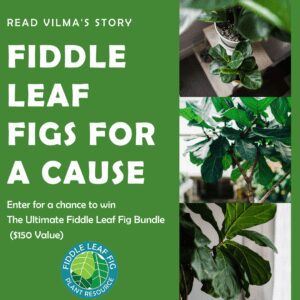 Grab the Essentials for Your Fiddle Leaf Fig:
To learn more: