If you've been a fiddle leaf fig owner for a while and are ready to step up your game, you might be ready for a variegated fiddle leaf fig!
These beauties look like regular fiddle leaf figs with those large, fiddle-shaped leaves we all know and love, but instead of solid, dark-green leaves, the variegated fiddle bears leaves with that beautiful green in the center, but with gorgeous swathes of white, silver, and cream coloring around the outside.
They're absolutely stunning!
The trouble is, these hybrids are tricky to find and often difficult to care for. But if you're a diehard fiddle fan and simply MUST add one of these breathtaking plants to your collection, we'll tell you everything we know about purchasing and caring for one of these rare hybrids.
Where to Buy a Variegated Fiddle Leaf Fig
At the time of this writing, there are no growers of this plant in the U.S. Currently, the only growers are located in Asia, with most in Thailand. If you're in the States, that's a long journey for a delicate plant, and many lose all of their leaves during or following their trip. Some completely die en route!
For now, the best way to get your hands on a variegated fiddle or even a cutting may be from private buyers on eBay, Etsy, Facebook Marketplace, or your local classifieds.
If you're determined to get one, we suggest setting up keyword alerts on eBay so that you'll be notified the moment one becomes available. Regularly search the terms "variegated fiddle leaf fig" on Etsy and Facebook Marketplace as well.
You might get lucky!
How to Care for a Variegated Fiddle Leaf Fig
Once you do manage to land a variegated fiddle, how do you care for it?
These plants (and most variegated plants) have a reputation for being fussy and difficult to care for. A lot of this is because of their coloration. After all, variegation is the result of a cell mutation that causes plants to produce less chlorophyll, the chemical that makes plants appear green.
While this mutation is responsible for the beautiful coloring that makes variegated plants so sought after, this mutation also reduces a plant's ability to convert energy into sunlight because chlorophyll is also the chemical responsible for photosynthesis. That means the green, chlorophyll-rich parts of the leaves have to work overtime to support the white, cream, or silver parts of the leaves that contain less chlorophyll.
How do you overcome this disadvantage?
The first step is to make sure your variegated fiddle gets enough light.
This is crucial for ensuring that your treasured variegated fiddle survives and thrives! Give your variegated fiddle as much bright, indirect light as you can to make photosynthesis as easy as possible. However, do not expose your variegated fiddle leaf fig to direct sunlight, as the coloring and lack of chlorophyll can make variegated plants extra prone to scorching!
Aside from light, your variegated fiddle leaf fig will enjoy the same care that you give to your regular fiddles, though it may be a stickler for consistency. Because it cannot use light to make energy as efficiently, your variegated fiddle may not recover as quickly from shock, under-watering, over-watering, or other disturbances.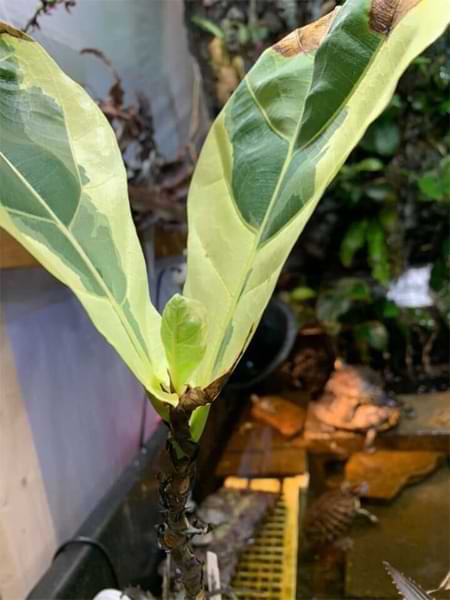 Here are some tips for providing your variegated fiddle leaf fig with the most consistent care possible:
Invest in a moisture meter so you'll know exactly when your variegated fiddle is ready for a drink. Monitor the moisture level of the soil closely, especially in the first month as you get to know your new plant. Water when your meter reads 3-4.
Avoid repotting your variegated fiddle until you've had it for at least a month. After that, only repot if the current pot and soil don't drain well enough; if there is too much drainage and you can't keep it hydrated; if your tree has become root-bound and needs a larger pot; or (knock on wood) if you suspect root rot or a bacterial infection. Don't risk root shock unless you absolutely have to.
When you do repot, make sure that your pot has drainage holes and use a light, fast-draining soil like Fiddle Leaf Fig Soil to prevent standing water and root rot.
Keep your plant far from drafts and heating/AC vents so you don't accidentally dry out those beautiful leaves!
Set up a humidifier very close to your fiddle to keep the leaves soft and hydrated.
If you can't provide enough natural light for your variegated fiddle, you'll want to supplement with grow lights.
Keep the leaves clean. Dust the leaves regularly and occasionally wipe down with water or Leaf Armor. This keeps the leaves healthy and the pores clear so as not to further inhibit photosynthesis.
Fertilize regularly with Fiddle Leaf Fig Food to provide it with the necessary nutrients to support leaf formation, strong streams, and a healthy root structure so your plant has the best possible chance of survival and growth.
Keep in mind that your variegated fiddle will probably not grow as quickly as a regular fiddle.
Overall, variegated fiddle leaf figs are still unicorns in the houseplant world, so for the time being, they may be tough to find and nurture. We're hoping to see more of these plants in the market, on social media, and in people's homes in the next few years!
Have you been able to get your hands on a variegated fiddle leaf fig? Tell us all about it in the comments!
To learn more:
Grab the Essentials for Your Fiddle Leaf Fig: