The best place to buy a variegated fiddle leaf fig.
Variegated Fiddle Leaf Figs are making a HUGE splash in the houseplant world, and with good reason. These plants are absolutely stunning, with their white, yellow, and light and dark green patterned leaves. We get questions all the time about where to buy one.
WARNING: First, I want to give a warning. These plants are hard to grow! I spent $350 on one for my birthday and it died. I'm still trying to revive it with no luck. So unless you're ready to waste some serious money and feel very real sadness, I don't recommend trying one. That said, here's the best place to purchase.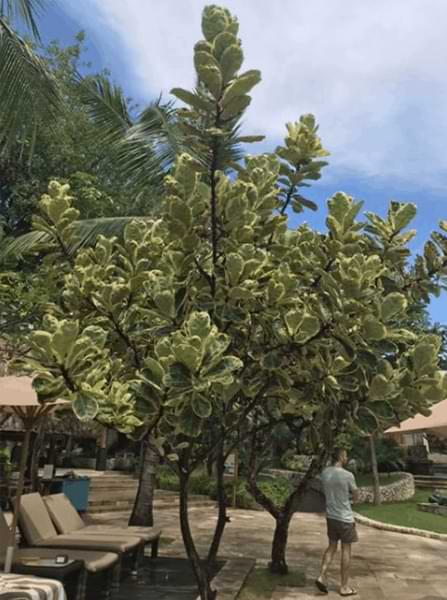 The trouble is, these gorgeous hybrids are hard to find!
At the time of this writing, there are no growers in the United States where you can buy a variegated fiddle leaf fig. There are growers in Asia, however, but that's a long way for a delicate fiddle leaf fig to travel! I recently purchased one from Thailand, but unfortunately, it died after its long journey.
This plant is also rumored to be a bit tricky to care for and there's not a lot of information out there for how to take care of them.
But hopefully, these plants will catch on and become more abundant so more of us can welcome them into our homes.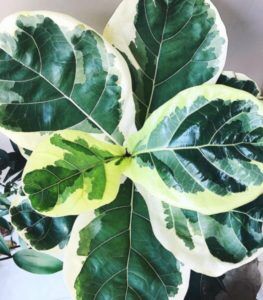 Where to Buy a Variegated Fiddle Leaf Fig Plant
Right now, the best place to buy a variegated fiddle leaf fig has to be eBay.
Now, you might eagerly click that link to search and find…nothing, but there's a trick.
When variegated fiddle leaf figs go up for sale on eBay, they don't stick around long, so they're very easy to miss. But you can set up keyword alerts on eBay so that you'll get a notification when one goes up for sale. That way, you'll be the first to know!
How to Set Up Keyword Alerts
To do this, create or log into your eBay account and "advanced" by the search bar to start an advanced search.
To set the requirements for your search, enter Variegated Fiddle Leaf Fig or variegated ficus lyrata in the keyword field. Then, set up any other search requirements you'd like. Make sure to save!
Now, eBay will send you notifications when a listing goes up with those keywords. With a little luck, you'll get your hands on one of these stunning, rare plants! (And please let us know if you do! We'd love to learn more about these plants and see your progress!)
Hopefully, the supply of Variegated Fiddle Leaf Figs will rise with the demand and become the next new houseplant trend! To learn more about their care, head over to this post!