Fiddle leaf figs are beautiful plants, which is why they're so popular!
So it's really frustrating when something throws off the aesthetic we're going for.
New fiddle leaf fig leaves grow from the top of the plant and should grow just as large or larger than the leaves below it. This contributes to the beautiful lollipop tree shape so many of us love and strive for!
But what if your new leaves are smaller than the older ones?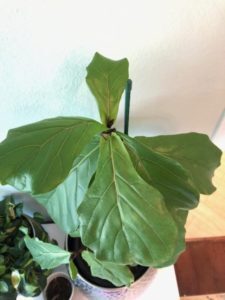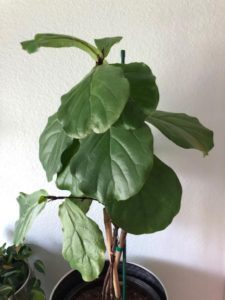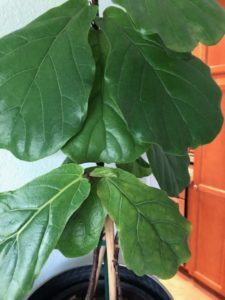 This is frustrating because…well, it gives the tree a lopsided, bottom-heavy look that you might not be crazy about. It's also a sign that your tree is lacking something it needs.
The thing about leaf growth is that it requires a lot of energy and resources from the plant. Smaller leaves indicate a lack of resources, either water, light, or nutrients (aka fertilizer).
If the new leaves aren't growing large enough, one of those three things is lacking.
So Your New Fiddle Leaf Fig Leaves Are Smaller than Older Leaves. Here's What to Do:
Water
Fiddle leaf figs require a very specific watering schedule and well-draining soil. A good rule of thumb is to water once per week. Smaller trees under 2 feet tall should get about a cup of water, trees between 2-3 feet should get two cups, while taller trees in the 3- to 6-foot range should get three cups.
Your tree might need more or less depending on where you live and the climate in your home. If you live in a hotter, drier climate, your tree might need a little more water and maybe even a humidifier or a little misting. If you live in a very humid area, it might need less.
But start with those amounts and adjust as needed.
Read this post to learn everything you need to know about watering your fiddle leaf fig.
Tip: You may want to invest in a moisture meter to know EXACTLY how much water your fiddle leaf fig needs!
Light
Fiddle leaf figs love light! They're native to the tropics, so they prefer steady yet indirect light for 6-8 hours per day. If your leaves are coming in small, the tree might not be getting enough. Try moving your tree to a bright, south-facing window and rotate it every week to make sure all the leaves get plenty of light.
If you aren't able to get enough light naturally, you might want to consider grow lights. Don't worry, these can actually be a beautiful addition to your home! Read our tips and recommendations here.
If the temperature is moderate, you can even put your plant outside in a place where it will get lots of bright morning sun but not necessarily hot afternoon sun.
Read our post about giving your tree the perfect amount of light.
Fertilizer
Plants get their energy from light, but they still need nutrients. In nature, plants get all the nutrients they need from the soil, but indoor plants need a little help!
If your plant is putting out small leaves, it could be lacking the nutrients it needs to support robust growth. Try adding fertilizer to your routine.
Our favorite fertilizer is Fiddle Leaf Fig Plant Food because we've specifically designed it with the perfect N-P-K ratio for fiddle leaf figs, and it's so gentle that you can use it every week when you water! That takes all the guesswork out of fertilizing, which means your tree gets the perfect amount every time.
Repot
You might also want to consider repotting in fresh soil, because it's possible that the plant is root-wrapped or has just outgrown its pot. The roots need room to grow too! If the root ball gets too tight, it's difficult for the tree to absorb the nutrients and water needed to support leaf growth, even if you are giving it all the water and fertilizer it needs.
Make sure to check out our post on repotting your fiddle leaf fig!
Fiddle leaf figs have a reputation for being finicky, but they're actually very good at telling you what they need once you learn to read the signs.
Try making these tweaks and you should get large, beautiful green leaves within a few weeks to a couple months!