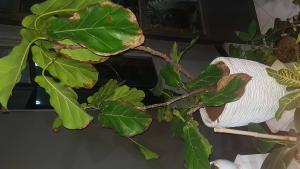 Hello
I hope you can help me , im dying of worry!!!
My friend gave me this fiddle fig around a month ago and i have used fertilizer in its soil ( 20 20 20 NPK ) and she lost like 5 leaves so far! I dont know if its from fungus or over fertilizing or humudity and water problem or something else , please if you know whats worng help!
And i used a anti fungus once too , sprayed on her leafs after leaves started turning color ….