At The Fiddle Leaf Fig Plant Resource, we have a wonderful group of Canadian followers! We are often asked about shipping the original Fiddle Leaf Fig Plant Food to Canada. Unfortunately, current regulations do not allow us to export to our friends up north.
However, we've identified a great alternative plant food that will work wonders on fiddle leaf fig plants. Fiddle Leaf Fig GROW Plant Nutrient 3-1-2 Formula provides a suitable formula for Fiddle Leaf Fig Plants. Be sure to follow the directions to properly dilute the formula so you don't burn your plant.
Buy Fiddle Leaf Fig Fertilizer in Canada Now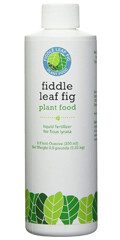 How to Learn More About Fiddle Leaf Fig Plants
To learn more about keeping your fiddle leaf fig healthy, green, and gorgeous, get your copy of The Fiddle Leaf Fig Expert here. Watch our free exclusive webinar for care tips and tricks. Finally, join our newsletter to get weekly plant care tips direct to your inbox!