Adding a gorgeous fiddle leaf fig tree to your home is a fantastic way to make a statement and wow your guests. But the plant itself provides only half the impact. A stunning container for your fiddle leaf fig tree will bring the focus to your plant and provide an amazing aesthetic for your home. Here are some beautiful pots for fiddle leaf fig plants that you can buy online.
Before you get started choosing a pot for your fiddle leaf fig, keep in mind that drainage is critically important for the health of your plant. You'll want to make sure the pot you house your plant in has perfect drainage. Then add a decorative container to the outside of your functional pot to keep your plant healthy and looking its best.
Choosing the Best Pot for Your Fiddle Leaf Fig
Believe it or not, there are actually "rules" for choosing a pot for your houseplant. According to Claire Akin, author of The Fiddle Leaf Fig Expert, an easy-to-read step-by-step guide to growing healthy and happy fiddle leaf figs, your container should provide balance to the overall size of the plant. This means your plant's container should not be too large or too small. A small plant in a huge pot looks silly and will have drainage problems. A very large plant in too small of a pot may be unstable and doesn't have the proper proportions to provide visual balance.
Akin also argues that your container should not compete with the color and texture of your plant. This means that if you have a brightly colored or variegated plant, you should use a solid or plain container. For flowering plants, you wouldn't want to use a patterned pot that would compete with the flowers. Lucky for us, fiddle leaf fig plants have a solid color and smooth texture, so we can get away with using really eye-catching pots.
Be Sure to Measure
Especially if you are ordering your decorative pot online, first measure your plant's container to make sure that it will fit. Measure the total diameter across the top and bottom of your plant. Then measure the total height of your container. Allow for your container to be at least 2 inches larger than the diameter of the top and bottom and to sit about 4 to 6 inches below the top of your new pot to hide the functional container.
The Most Beautiful Pots for a Fiddle Leaf Fig Tree
Finding the perfect pot for your fiddle leaf fig tree may take some searching. Plant nurseries often have a great selection and you can even find decorative pots at discount stores like Home Goods or Ross. But for those of us who like to buy online, here are my favorite pots on Amazon.
Woven Seagrass Basket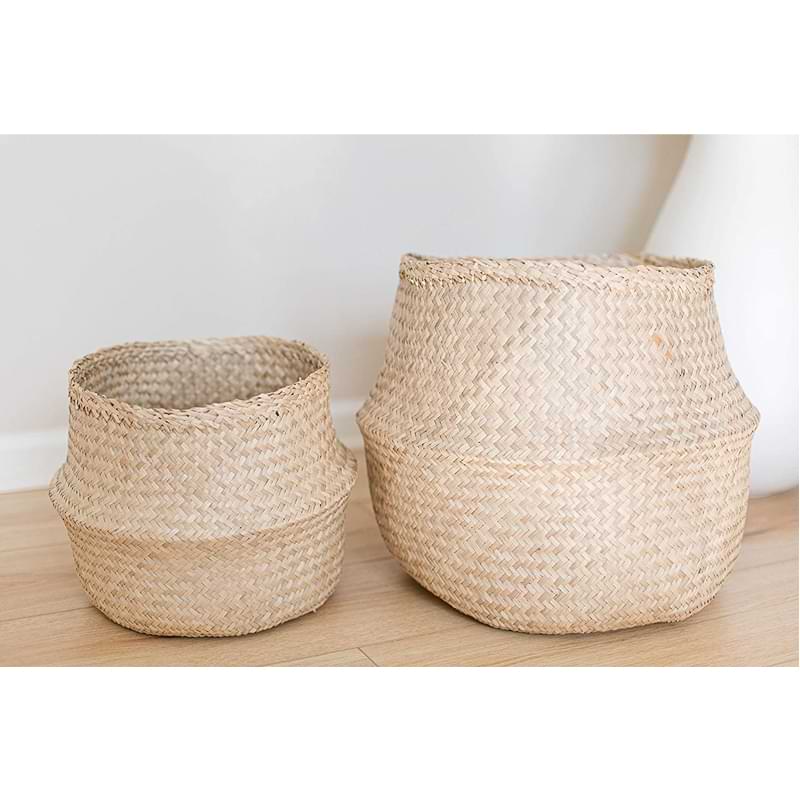 This beautiful woven seagrass basket provides the perfect home for your fiddle leaf fig. It comes in small, and large to fit a variety of plant sizes. It's handwoven with sustainably grown seagrass and gives a natural and peaceful look to your home. Check the price on Amazon here.
White Ceramic Planter With Wood Stand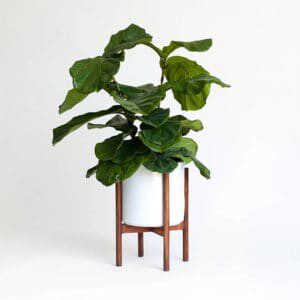 These understated white ceramic planters with wood stands originally appeared on the pages of Crate & Barrel catalogs and have become very popular on Pinterest. They provide an elevated focal point for your plant, without detracting from its natural beauty. These planters are perfect for small to medium fiddle leaf fig plants, but you will want to avoid using them for a very large plant since they could be top heavy. Check the price on Amazon here.
Blue and White Ceramic Pot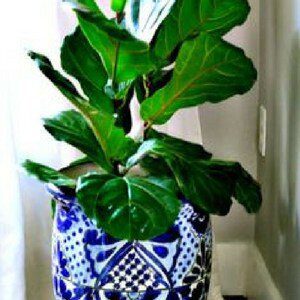 One of the most common questions I get on my blog is about the gorgeous blue and white pot for my fiddle leaf fig Goose. I purchased that at a local plant nursery, but you can find a similar version online. Something about the simple blue and white pattern turns your fiddle leaf fig into an interesting work of art. This Moroccan pot is only 7 inches in diameter, but is perfect for the smaller fiddle leaf fig. See it on Amazon now.
Sparkling White Pot for a Large Tree
It's tough to find pots large enough for a full-size fiddle leaf fig tree. This large planter measures 10.75 inches in diameter for a large fiddle leaf fig tree. Here's one option made of fiberglass, which is not as heavy as a ceramic pot. Check the price on Amazon now.
Ocean Blue
This large and inexpensive pot measures 15 inches in diameter and 12 inches tall. It's perfect for a home with ocean decor or a cool color palette. A great budget option, this plastic container is designed to look ceramic at a fraction of the cost and weight. Check the pricing on Amazon here.
Stunning in Silver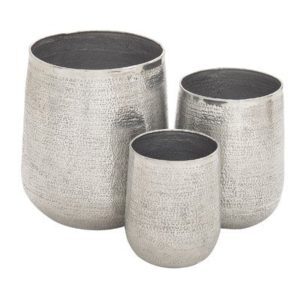 I absolutely adore this set of aluminum silver planters and have a set for my fiddle leaf fig in my office. The set comes with three pots, with the largest being 16 inches in diameter and 21 inches tall. You could use the other two for accompanying houseplants to create a grouped focal display. There are no drainage holes, so you'll want to use these as decorative containers for your existing pot. See the pricing on Amazon now. They also come in copper here. And a gold option can be found here.
Protecting Your Floors and Surfaces
No matter which planter you choose, be sure to protect your floors and surfaces by adding self-adhesive felt pads to the underside of your container. This allows for some airflow below your plant and protects your surfaces from scratches. If you have a very large fiddle leaf fig, adding a plant caddy makes it easy to move and turn your plant.
To learn more:
Read how to repot a fiddle leaf fig tree and add your new decorative container.
For more information about fiddle leaf figs, join the Fiddle Leaf Fig Club, download the Ultimate Guide to Watering Your Fiddle Leaf Fig, and ask the Fiddle Leaf Fig Doctor a question anytime!
Read The Fiddle Leaf Fig Expert, your complete guide to growing healthy fiddle leaf fig plants. The book is available in full-color paperback or Kindle edition on Amazon now!
Click to join our community on Facebook: Fiddle Leaf Fig Plant Resource Group.
Grab the Essentials for Your Fiddle Leaf Fig: