There are so many people who ask us where to buy a fiddle leaf fig plant online, but they have concerns about the quality of the plant and how it will survive shipping. Several horror stories exist online about plants dead on arrival and sellers vanishing into the night. At the Fiddle Leaf Fig Plant Resource, we've been working with reputable growers to create a trusted network of online fiddle leaf fig sellers. Here are our favorite places to buy a fiddle leaf fig online.
Where to Buy a Fiddle Leaf Fig Plant Online
Fiddle Leaf Fig Plant Resource Verified Partner, HousePlantShop.com
We've partnered with a top grower that sells very high-quality, well-grown fiddle leaf fig plants through the mail to all of the lower 48 states. Their specimens are 25 to 28 inches tall and fit perfectly in a 12-inch diameter pot. They have a single trunk that is relatively strong compared to other plants I've purchased.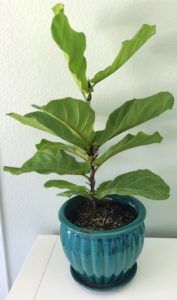 This style of plant is a taller, thinner plant that is more like a tree's shape. Because they arrive in excellent health, they begin growing quickly. The plants I've ordered from this grower have not experienced any shock or leaf drop upon arrival. Watch this video about the experience and purchase the items below to create your beautiful fiddle leaf fig display! Buy yours online now for $22.99.
Fiddle Leaf Fig Unboxing and Repotting Video
How to Buy
To create this design, you will need a 12-inch ceramic planter, a bag of potting soil, and the plant itself. Click below to order yours today!
The total for this plant, the pot, the plant food, and the soil is about $125.
Costa Farms is the largest grower of fiddle leaf fig plants in the country and has extensive experience shipping their plants through the mail. While I have not purchased one of their plants directly, the owner has committed to a 100% satisfaction guarantee for Fiddle Leaf Fig Plant Resource customers.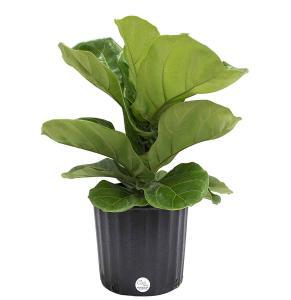 Their prices and shipping are some of the lowest available, so if you're looking for a great deal on a fiddle leaf fig, this is your best option. Their fiddle leaf fig plants are about 18 to 24 inches tall and come in an 8.75-inch grower's pot, ready to be repotted into a 10- or 12-inch pot. This style of plant is a shorter, fuller plant that is more of a bush shape. Unfortunately, they do not ship to Alaska, Arizona, California, Guam, or Hawaii.
How to Buy
The total for this plant, the pot and stand, the plant food, and the soil is just under $100.
To learn more about the best fertilizer for your new fiddle leaf fig plant, click here.
We are always looking for more partners, especially for larger plants, so stay tuned and check back regularly. To get updates on our verified partnerships, sign up for our newsletter today!
Other Essentials for Your Fiddle Leaf Fig:
To learn more: